You can trust that you've discovered the ideal roofing specialists in Roswell when you stumbled upon us! Whether you're in need of roof repairs, replacements or are simply curious about roofing basics, you can find comprehensive information on all your queries here. We pride ourselves on delivering outstanding craftsmanship and customer service with every job we take on. Our team of experts have years of experience that allows them to guarantee exceptional outcomes each time. Trust us at Clark Brothers Roofing & Construction for all your roofing needs!
Sooner or later, every roof needs to be replaced, usually due to the long-term effects of weathering. If a residential roof is more than 20 years old, it is a prime candidate for re-roofing. When this time has arrived for your roof you should not be thought of as an elective home upgrade. A 20-year old roof should be considered an essential upgrade (and sometimes an urgent one).
Factors To Consider: Age, Appearance, And Leaks
Is your roof showing natural wear and tear from age (20+ years old)?
Are there any shingles missing, cracked, or otherwise damaged?
Are the areas of your roof that appear to be sagging?
Do you see streaks of mold?
Has your energy bill increased?
Is water leaking into your attic or elsewhere in your home?
Replacing your roof is one of the largest and most expensive projects you will undertake on your house. So be thorough with your Roswell roofing contractor search (see "How To Find A Roofer" blog post). Once you choose your contractor, they will secure all materials as well as schedule the production crew and a supervisor or specialist to oversee the work that day. The supervisor/specialist is there to ensure all work is done to your satisfaction.
How long should a new roof last?
It's helpful to understand that what ages your asphalt shingles is not rain, snow, or ice. What ages it is the sun. Our sun generates the two primary factors for your roof's aging — heat and ultraviolet (UV) waves. It's these UV waves that break down the asphalt in your shingles.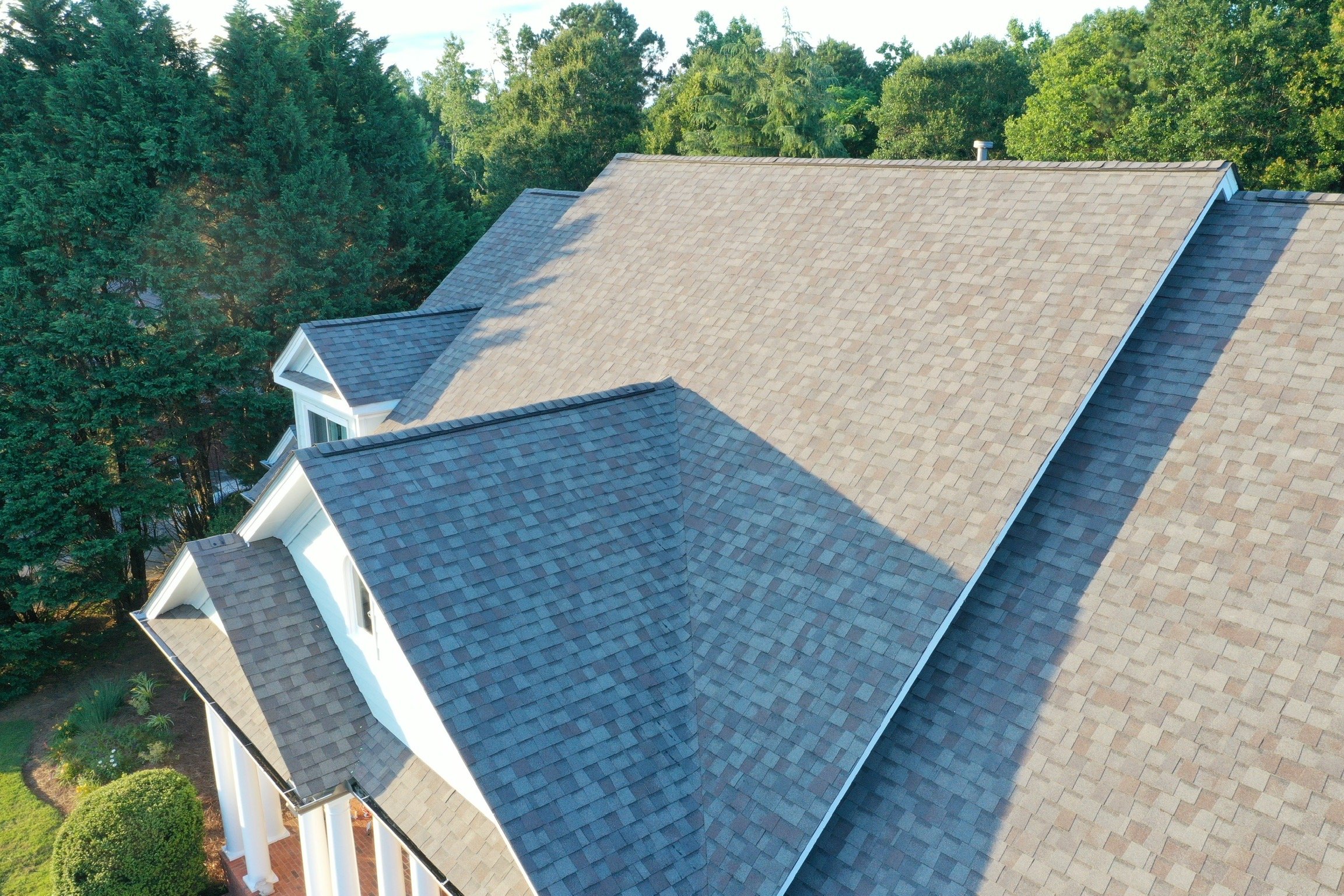 To resist this process for as long as possible, manufacturers cover the asphalt with granules to block the UV waves. However, after roughly a decade of protecting your home, the granules begin the slow process of erosion, exposing the asphalt a little more with each passing year.
On a 100-degree Fahrenheit day, an asphalt roof can reach temperatures over 160 degrees. This blistering heat softens your asphalt shingles, drying them out, which causes them to become more brittle when they eventually cool. This leads to shrinking and cracking of the shingles on your roof.
As a general rule of thumb, a standard 3-tab asphalt shingle roof should last for roughly 20 years. But there are variables that can reduce or extend the life span of your roof.
Manufacturers offer an upgraded thicker shingle that provides an extra layer of protection for your home against UV waves and take much longer to break down. They're more expensive, but they will protect your home for 30 – 40 years. Ask your contractor about the options they offer.
Will a new roof lower my utility bills?
New shingles alone will not necessarily lower your utility bills. But if your home doesn't already have a properly installed full roof system with ventilation components to help your home breathe more efficiently to rid itself of summer heat and winter humidity, then a full roof system will most certainly help lower your utility bills.
Is there a particularly good time of year to replace my roof?
The best time to replace your roof is whenever it needs to be replaced. Roofs are replaced year round, and whatever time of year you decide to replace it will not harm the product, nor should it have any bearing on the quality of workmanship.
How much does a full roof replacement cost?
We're often asked "what does a roof replacement cost". There is no "one size fits all" answer to this question, among the variables are:
the size of your roof
the products you select (i.e. — 3-tab shingles, architectural shingles, etc.)
is there damage to your roof? If so, how much damage? Only an inspection by a reliable professional can answer that for you
That said, at Clark Brothers, we always try our best to provide advice on any question asked by a homeowner. So if you are looking for a general range, the majority of roofs being replaced due to age (with no unexpected damage to decking, fascia boards, etc.) until recently fell in the range of $10,000 – $15,000.
Currently, due to noticeable increases in cost of construction materials since pandemic-caused quarantining back in April, 2020, manufacturing slowed drastically. This limited supplies of wood, asphalt, and other materials that go into a roof replacement, in turn causing prices for these goods to increase significantly.
How long does a full roof replacement take?
For the average size home, a full roof replacement should be completed in one day. Homes with large or damaged roofs will likely take more time. Weather, of course, can also play a role in the process. Experienced roofers always have one eye on the weather forecast and will reschedule in advance if inclement weather is being forecasted on the day of your build.
After inspecting your roof, your contractor should be able to confirm how long the build should take.
How to prepare a home for a full roof replacement?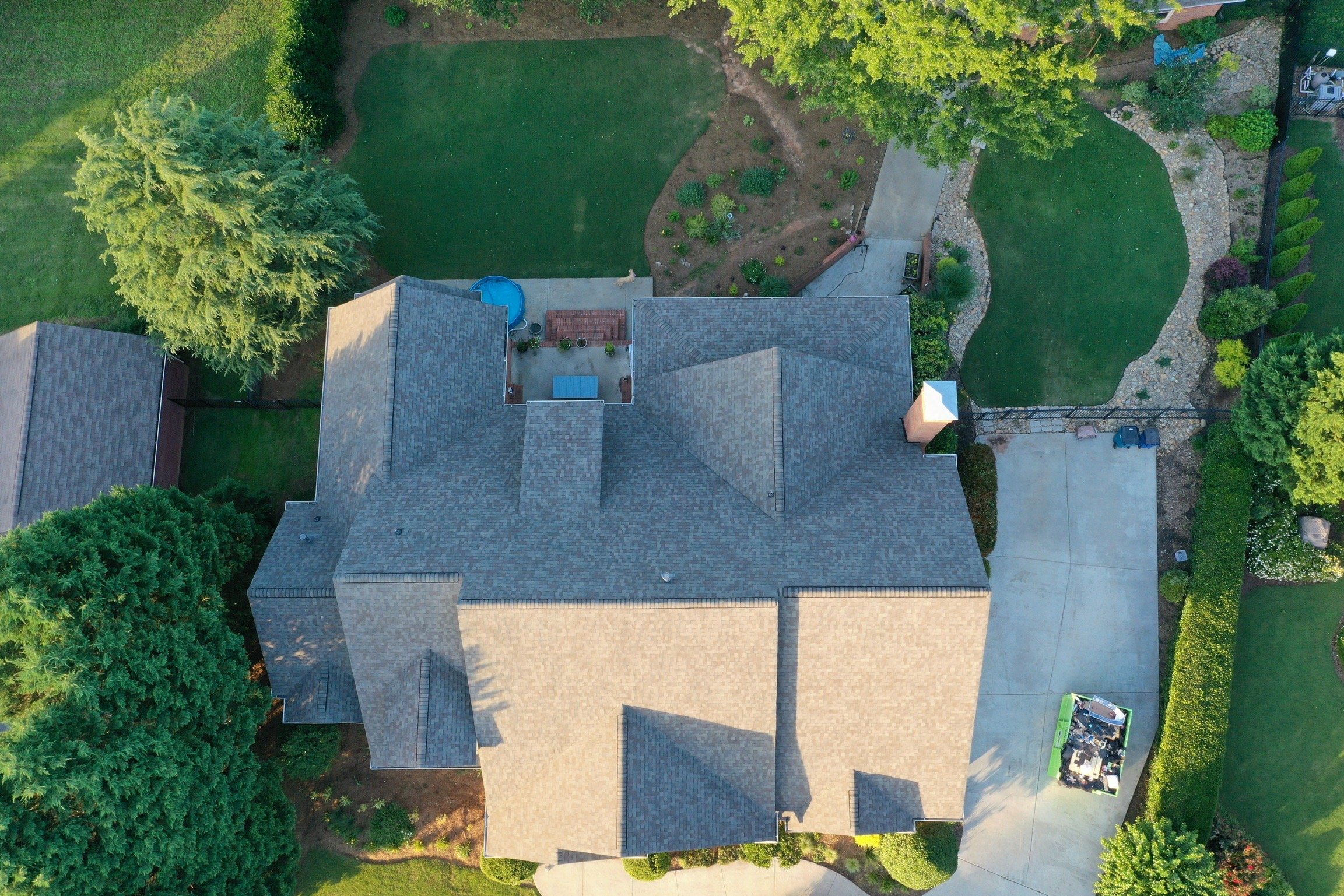 The contractor's Project Manager will let you know in advance when the dumpster and materials will be delivered. Be sure to have your driveway completely cleared of all vehicles as that space will likely act as the base of operations for the roofers (and where the dumpster will be placed). Remember to also move any vehicles from your garage that you will need access to.
With today's nail guns, banging and vibrations are kept to a minimum, but if you have breakable family heirlooms on a shelf or wall on whatever floor is below your roof/attic, you may want to safeguard them.
If you notice any dust that may have collected in your duct work over the years coming down from ceiling vents or bathroom fans on that floor, you can place drop cloths down to protect your floors from dust.
Do I need to be home during the roof installation process?
Not at all. Unless something unusual was uncovered during the inspection that may require access to your attic, a roofing contractor should not need to enter your home.
What are the components of a full roof replacement?
Components include underlayments, shingles, accessory products, and ventilation that are all working together.
Underlayments
Underlayments are water-resistant layers installed directly onto the wood decking of your roof. They protect your home against leaks that can be caused from ice dams or wind-driven rain into vulnerable areas of your roof.
At Clark Brothers Roofing & Construction we primarily use Certainteed's product lines. Their Winterguard Ice & Water Shield is installed along the eaves and in the valleys of your roof for extra protection against the large amounts of ice/water that can build up in these areas. Their synthetic, water-resistant barrier DiamondDeck gets installed over the top of the Ice & Water as well as the rest of your roof.
Starter Shingles
Starter shingles are flat shingles installed along the eaves to add a layer of protection against ice and wind-driven rain.
Shingles
This layer is your selection (style/color) of asphalt shingle.
Ridge Vent
This is essentially a gap that runs along the lengths of the ridge lines in your roof. Those gaps are then covered by the ridge vents.
This component is critical to your roof's durability because it acts the exhaust component (from the air intake at your eaves and soffits), enabling a continuous flow of air through your attic, creating a cooler attic for you in the summer, and a drier attic in the winter. In short, it's a key component for allowing your roof to breathe.
Ridge and Hip Shingles
Accessory shingles are used to finish the ridges and hips on your roof. These shingles complement the shingles you selected for installation.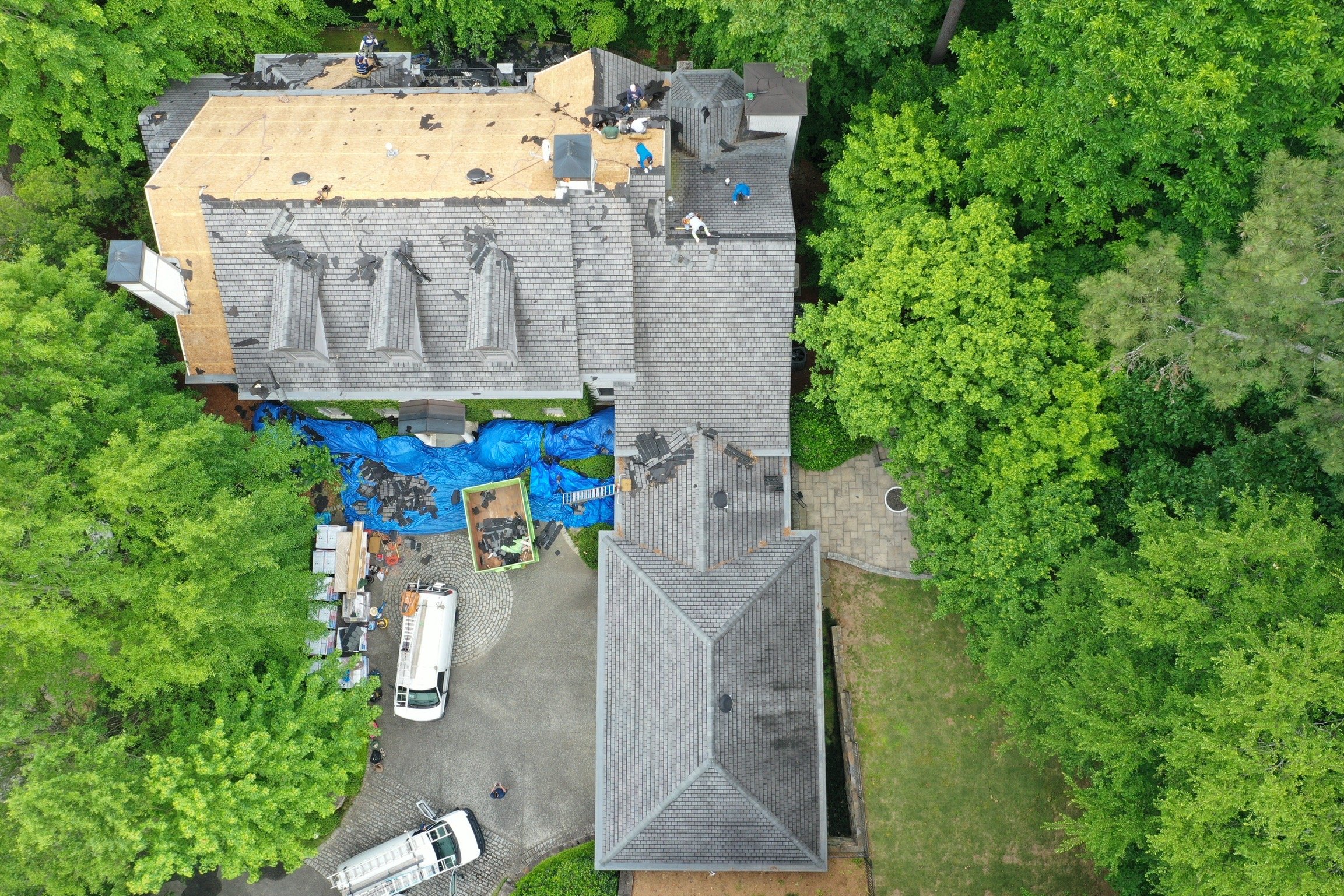 The contractor's Project Manager will let you know when the dumpster and materials will be delivered. Typically, they arrive either the day before, or the morning of, your build.
On the day of the build expect the crew to arrive early in the morning to begin preparing your home and yard for the job.
The first task is the "tear off" in which all existing shingles, underlayments, vents, etc. will be removed from your roof, bringing it back to it's original wood sub-decking. NOTE: Most homeowners don't realize how much material is up on their roof. Be prepared for a significant amount of debris to come down from your roof.
Next is the installment of the Ice & Water barrier. It gets installed along the first 2 – 6 feet of your eaves and in the valleys of your roof.
After the Ice & Water is installed, the synthetic, water-resistant barrier DiamondDeck is installed over your entire roof (including the Ice & Water underlayment).
Starter shingles are then installed along the eaves for added protection against this most wind vulnerable area of your roof. The starter shingles should slightly overhang from the fascia board. These shingles will be installed with as many as five nails per shingle for added protection against high winds.
Next is the installation of the asphalt shingles you selected. The first layer is placed close to the bottom corner of your roof. Each row is staggered to ensure there is always overlap and no breaks/gaps for water to penetrate through. Each new row backs up the previous one and lines up with the roof edge. Maintaining this staggering process also provides your roof with additional strength.
Once your shingle roofing is in place, the ridge caps are installed along all the ridge lines of your roof. Ridge (and hip) shingles are installed to cover/finish the ridges (and hips) on your roof. If there are any exposed nails, the crew will use roof cement to protect those nailheads from exposure.
A full roof replacement should always wrap up with a thorough clean up. A reliable roofer will treat your home as if it's his own house, and return your property to the same, or better, condition that it was in before the build.
At Clark Brothers Roofing & Construction we guarantee your yard will look as good as it did before the job started. We use the catch all system, as well as tarps, to ensure your gardens and yard are protected. All debris will be loaded into a dumpster and hauled away at the end of the day. We will also run an industrial magnet roller through your yard to make sure any nails that may have slipped through our protection system are caught and disposed of
---
Special Offer from CertainTeed:
ROOFS FOR THE RED, WHITE & BLUE
A $250 CABELA'S® GIFT CARD FOR MEMBERS OF THE U.S. MILITARY FROM CERTAINTEED ROOFING.
---
Comprehensive Roofing Services for Your Home or Business
With an exploration of our roofing services, you will gain valuable insight into how we can effectively meet your individual roofing requirements. We offer comprehensive solutions custom-fit to tackle any problem you may have – be it a minor repair or full replacement job. Our experts are highly trained and well versed in the entire construction process, from helping choose the right materials to making sure that all expectations are met with the finished product!
If you're looking for roofing services in Roswell GA, don't hesitate to read through our roofing blogs and learn more about how we can assist you. We guarantee excellent service quality and utilize only the best materials so that your experience with us is reliable, effective, and efficient. Our team will make sure that your needs are met while surpassing all expectations! Contact us now!